Diversity may mean something different to many organizations. With that in mind, diversity should not only exist as a metric to advance business goals, but as a standard for strong, collaborative efforts spanning various demographics.
At Campbell & Company, our goal is to help all of our clients be as inclusive as possible, because the field of philanthropy itself has long been lacking diverse teams, particularly leaders of color.

Build diverse candidate pools and hire qualified candidates that represent a range of diversity.
Despite the recent proliferation of articles, analyses, training opportunities, and organizational reflections about diversity, equity, and inclusion, entrenched disparities affecting marginalized communities continue to dominate the nonprofit sector, as noted by Building Movement Project.
An Executive Search firm needs to excel at identifying diverse candidates. Structuring a leadership team to encompass a wide range of backgrounds and perspectives will improve an organization's ability to innovate, collaborate, and ultimately achieve their mission. When it comes to the placement of strong nonprofit leaders, Campbell & Company Executive Search consultants excel at identifying a slate of highly qualified candidates who represent a range of diversity.
Our numbers demonstrate a commitment to building diverse candidate pools: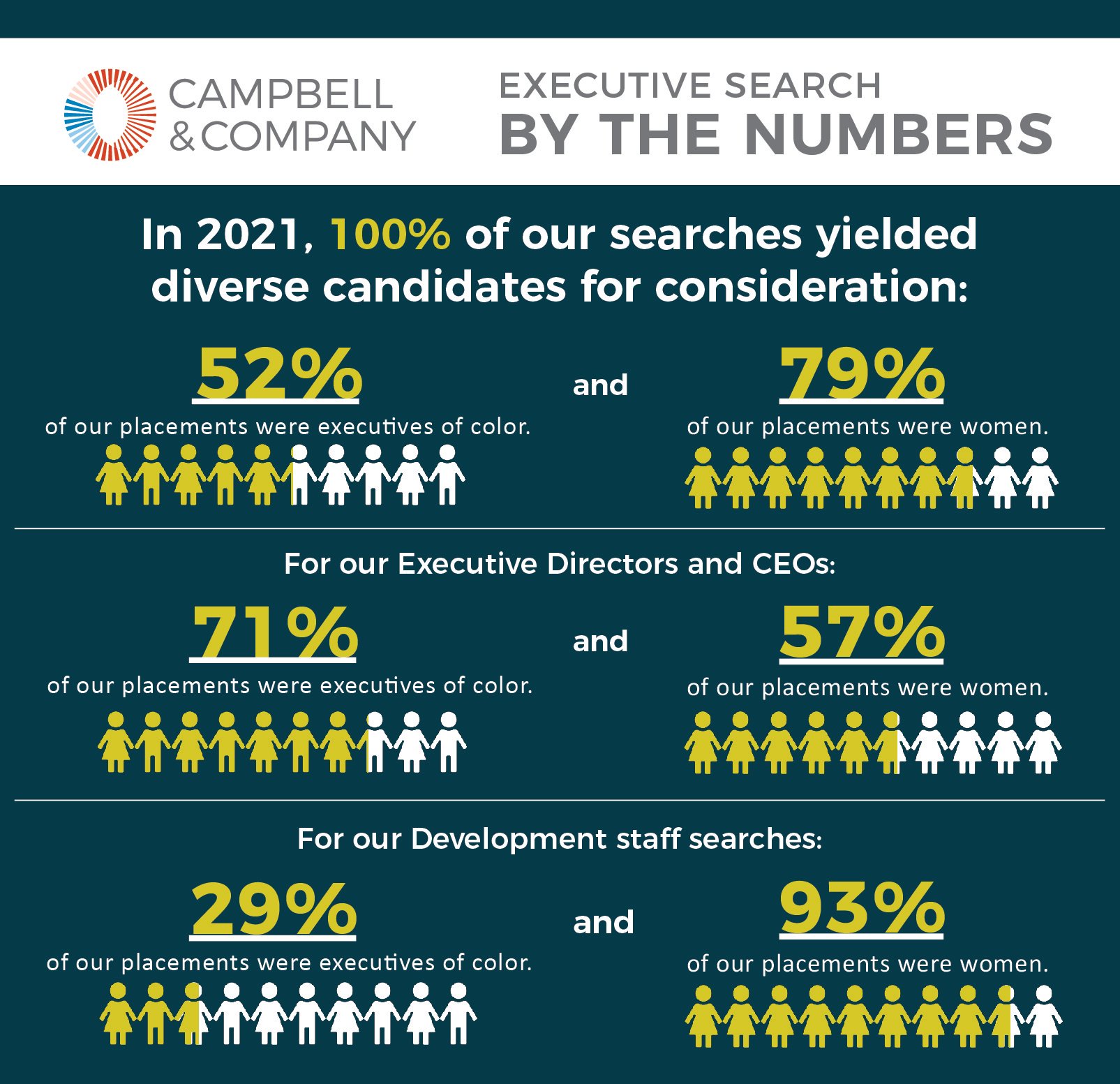 Ensure your search committee represents the community you serve.
When looking at volunteer leadership, it is just as important to remember to ensure your Search Committee represents the communities you serve.
"It is essential that a Search Committee reflect the diversity of the organization or community it serves," according to Campbell & Company's Director of Executive Search, Kris McFeely. "This includes ethnic and racial diversity, as well as gender and age diversity. Diverse committees help provide a welcoming atmosphere and positive candidate experience."
The Campbell & Company Executive Search team is well-versed in recruiting diverse leaders for nonprofit organizations across the United States. Nonprofits advance justice, opportunity, and equity throughout our society—and we bring this same commitment to our practices and culture as a company.
We are proud to be named as one of the top search firms that work for women of color in 2021 by Women of Color in Fundraising and Philanthropy. With over 10 years of collective experience, our AIRS-Certified Diversity and Inclusion Recruiters also bring a record of success to each executive search engagement and will work closely with you to find the right candidate who believes in your mission and is ready to make a meaningful impact in the community.