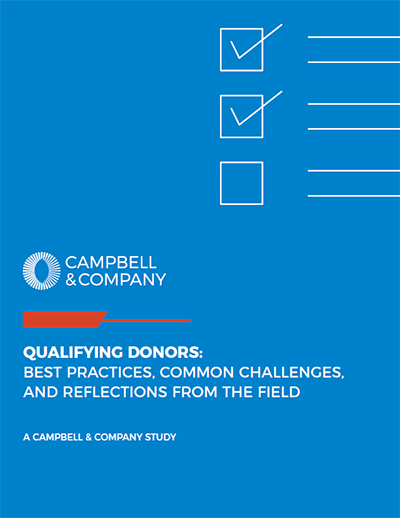 Qualification—the active dialogue with a prospect that helps you better understand their capacity, linkage, interest, and inclination to support your organization—is an increasingly important component of an effective fundraising program.
But despite its inherent value, few organizations dedicate the time and resources to create a qualification program—or implement qualification activities—grounded in best practices. To address this gap, Campbell & Company spoke with organizations across sectors with a range of qualification experience and practices.
Download Qualifying Donors, a research study.
This study identifies common qualification themes and challenges from our research alongside best practices from our firm's experience. Topics include:
Staff resources
Training
Metrics
Technology and tools
Leadership
Sample qualification questions
Qualification services are a key element of Campbell & Company's approach to prospect management and development with our partners. We conduct qualification outreach for clients, and we advise on qualification best practices and strategy during our counsel relationships.
Please contact us to discuss this research or learn more about Campbell & Company's qualification services.
For more on this subject, download our qualification how-to guide and read our article on setting up a qualification call program.