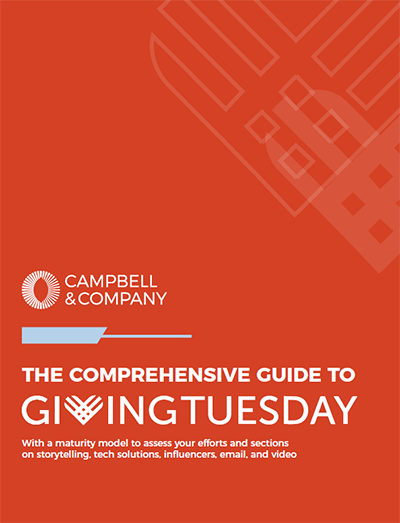 As we inch closer to the end of the year, it's time to start thinking about GivingTuesday. To this end, we PUBLISH advice to help you navigate GivingTuesday during the COVID-19 pandemic. We're also re-releasing our Comprehensive Guide to GivingTuesday to give you 360° planning support ahead of the big day.
Download our Comprehensive Guide to GivingTuesday.
Since its inception in 2012, we've seen exponential growth in the popularity and visibility of GivingTuesday. Our guide will help you make the most of this important giving day. We break planning down into three sections:
Your GivingTuesday Plan
How does GivingTuesday fit into the big picture?

Step 1: Outline Your Goals and Objectives

Step 2: Assess Your Resources

Step 3: Define Your Day-of Metrics and Targets

Step 4: Identify Your Audience

Step 5: Create Effective, Compelling, and Shareable Content
Your GivingTuesday Communications Channels
Your GivingTuesday Timeline
The Weeks Leading up to GivingTuesday

GivingTuesday Launch

The Weeks After GivingTuesday

The Months After GivingTuesday
For more advice, visit our online fundraising content hub. And our team is always available to answer questions, so don't hesitate to drop us a line at online.fundraising@campbellcompany.com. Best of luck with your GivingTuesday plans!