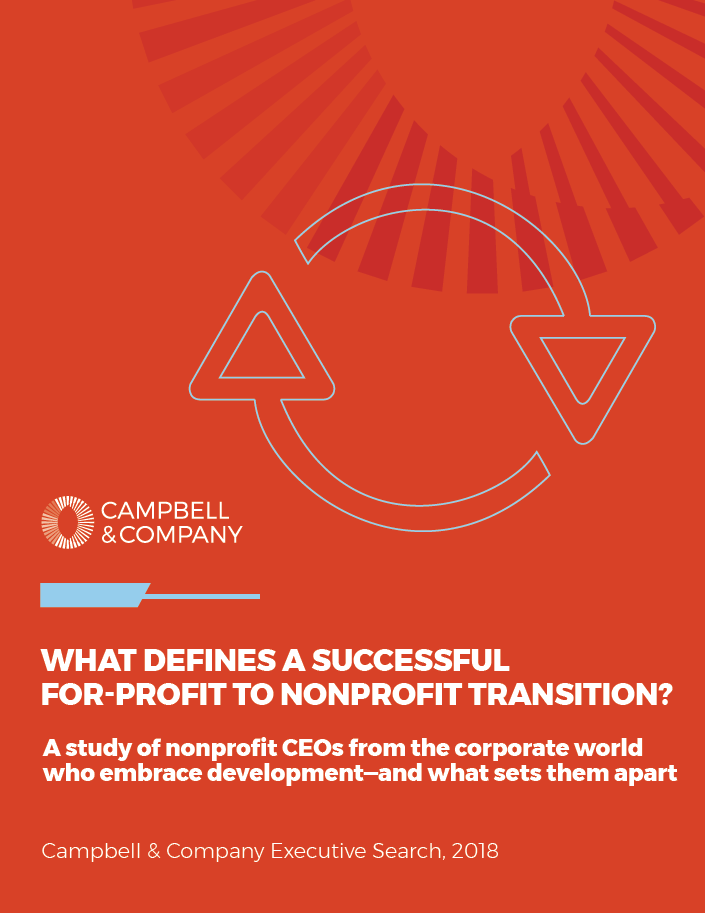 Transitioning from the for-profit sphere to the nonprofit sector is a common occurrence for today's corporate executives. In response to this growing trend, the Campbell & Company Executive Search team launched an initiative to explore the relationship dynamics between formerly corporate CEOs and their CDOs.
Download the full report to review our findings.
Given that the CDO role does not exist in a corporate context and fundraising is an important responsibility for nonprofit CEOs, we sought to learn how these relationships evolve over time. We also wanted to uncover recommendations for CEOs and CDOs faced with this increasingly common situation.
Through the course of our research, we interviewed CEO- and CDO-level leaders at four organizations. Each CEO-level participant has significant private sector experience:
Based on these in-depth discussions, we developed four case studies and identified a series of common themes. We also synthesized their responses and developed two sets of recommendations—one for CEOs, one for CDOs—to help professionals in similar situations optimize the CEO-CDO relationship.
Watch the videos below for insights from three of our study participants: