In 2017, charitable giving in the United States reached a new milestone, surpassing $400 billion for the first time and recording the highest inflation-adjusted level ever. Responding to a growing economy, Americans contributed $410.02 billion to organizations across the nonprofit sector, according to Giving USA 2018: The Annual Report on Philanthropy.
Total giving in 2017 climbed 5.2 percent in current dollars compared to 2016. This strong showing mirrors robust growth in several key economic indicators associated with giving. Disposable personal income—a measure closely tied to individual giving—grew 2.9 percent[1] in current dollars from 2016 to 2017, and the S&P 500 index increased 19.4 percent[2] during the year.
"In 2017, we saw broad-based increases in giving to nearly all sectors and from all sources of charitable contributions," notes Peter Fissinger, President and Chief Executive Officer of Campbell & Company.
"This collective growth, coupled with the historic $400 billion milestone, is truly remarkable: 2017 was the fourth year of consecutive growth in U.S. charitable giving. Moving forward, we as a sector need to focus on philanthropic participation rates, ensuring that giving is strong across all communities and income levels, as well as stewardship of our passionate supporters."
Watch Campbell & Company's Giving USA video to explore the report's headlines:
Key Findings
Individuals accounted for the largest share of giving at 70 percent.
Between 2016 and 2017, giving increased across all four donor types: individuals, corporations, bequests, and foundations.
Corporate giving posted particularly strong growth in 2017 at 8 percent in current dollars. Corporate response to disasters contributed to this high giving rate, which included $405 million in disaster relief.
2017 contributions: $410.02 billion by source (in billions of dollars—all figures are rounded)
Eight of the nine major sectors recorded positive growth in 2017, and six surpassed the growth rate in total giving.
Gifts to foundations recorded the highest growth rate by far, coming in at 15.5 percent in current dollars. This dramatic increase can be partially attributed to strong stock market performance and a number of mega-gifts to foundations.
Changes in giving by type of recipient organization, 2015-2016, 2016-2017, and 2015-2017 (in current dollars)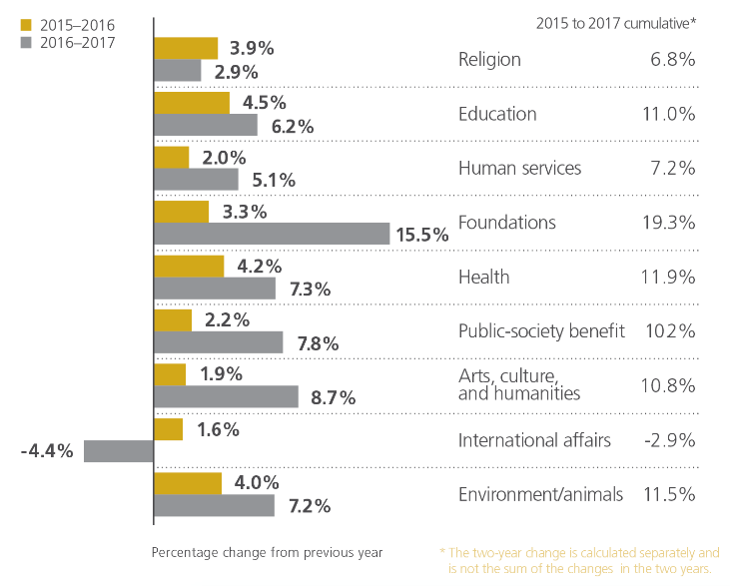 Giving to the arts, culture, and humanities, public-society benefit, and health sectors also posted high growth rates. Arts and health benefit from high-net-worth giving, and public-society benefit includes some gifts to donor-advised funds.
International affairs recorded the only decline in giving, decreasing 4.4 percent in current dollars. Donor response to high-profile domestic disasters in 2017 likely contributed to this decline, which follows several years of growth in the international affairs sector.
Campbell & Company is proud to share key findings from Giving USA and contribute to advancing the nonprofit sector. Our full Giving USA coverage includes five in-person events across the country and two webinars that allow nonprofit professionals to dive into the data. To learn more or RSVP, visit our Giving USA events page.
The Giving USA Foundation released Giving USA 2018: The Annual Report on Philanthropy to the public at 10:00 a.m. ET on Tuesday, June 12, 2018. To purchase Giving USA materials, please visit givingusa.org and use code campbell to receive 30 percent off.
---
[1] https://alfred.stlouisfed.org/series?seid=DSPI#0
[2] http://performance.morningstar.com/Performance/index-c/performance-return.action?t=SPX&region=usa&culture=en-US