At the start of each year, we sit down with our Executive Search team to talk trends in nonprofit hiring and talent management. What's in store for 2020? Our team members Kris McFeely, Marian DeBerry, and Dan Nevez weighed in.
Keep reading to explore what developments they're watching, from in-demand skills to recession concerns, high fundraiser turnover to a focus on equity.

Economists are talking more and more about a possible recession. How might this affect the nonprofit labor market?
Marian: Typically, the nonprofit labor market doesn't see the effects of a recession right away. There's usually a quarter or two lag, but when donors go away, nonprofits have to think about staffing differently. They may end up needing to transition staff out of their organizations.
During the Great Recession, we saw people doubling up in their own jobs if they were able to keep them,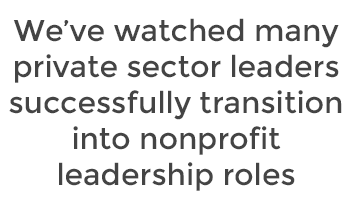 and we also saw a lot of people come on to the market. At the same time, compensation often didn't go up, so people didn't get a raise, sometimes for several years.
Dan: And for people who keep their jobs, they're often less willing to take risks on a new role, so we see less of the "musical chairs" of employment during a recession.
In the last recession, we saw CEOs, who were by and large baby boomers, putting their retirement plans on hold. Now, the next generation coming up is putting pressure on those CEOs to leave.
Kris: One other trend we've seen is people from the private sector looking to nonprofits during or after a recession. They might lose their job or it gets so much harder that they decide to make a change and do something they're more passionate about. Over the last couple years, we've watched many private sector leaders successfully transition into nonprofit leadership roles.
What skills do you think will be most sought after for chief development officers in 2020?
Kris: Since this is an election year, I'm betting that advocacy organizations will be looking for CDOs who understand the complexities of fundraising in that landscape.
More broadly, strong campaign experience continues to be a must-have for development leaders. So many nonprofits are either planning for a campaign, in campaign, or post-campaign, so the ability to lead there is crucial.
Dan: In addition to campaigns, experience with building sustainable major gifts programs is top of the list for so many organizations. A lot of nonprofits have comprehensive fundraising operations, but they're not able to make a big impact where philanthropy is at its largest: individual giving. They look to their new CDO to bridge that gap.
Beyond specific skills, passion for the mission is always an important driver in hiring a chief development officer. Yes, you need the ability to raise money and a track record of achievement. But that passion for mission is so often the deciding factor in a CDO search.
Marian: So many of those fundamentals like passion for mission hold true from year to year. One change I'm seeing is that CDO jobs are getting bigger and bigger and bigger, especially at large organizations. The ability to scale is important in those cases.
What about for CEOs?
Marian: Having the skills to generate revenue remains important. I can't recall a recent CEO search where fundraising didn't play a central role. In the past, becoming a CEO was all about your content knowledge.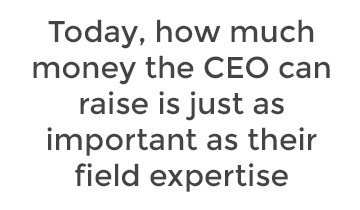 Today, how much money the CEO can raise is just as important as their field expertise.
Kris: Diversity, equity, inclusion, and access is another area where CEOs need to be well-versed, especially as organizations make DEIA a priority. It's up to the CEO to advance those efforts and show the commitment, leading by example. We will continue to see organizations taking that into account as they search for their next CEO.
Dan: To build on that point, I think it's often the millennials and Gen Z employees who are pushing organizations to embrace diversity. A new CEO—all CEOs, for that matter—need to have the cultural sensitivity to deal with the shifting work landscape.
I also think resilience will be in demand in 2020. Boards get cautious about shifting revenue streams and other unknowns, so the ability to navigate that and overcome obstacles can make a CEO candidate stand out.
There continues to be high turnover in the fundraising field. How should organizations address this longstanding problem?
Dan: There are no easy solutions here. While it's a widespread trend, it comes down to each organization seriously examining itself, doing an assessment, and understanding what to do to stem the departure of strong talent.
People who are leaving often point to unrealistic expectations and a lack of organizational understanding when it comes to fundraising. The CEO may not be interested in fundraising, or the board may not even be involved in fundraising. In that situation, the fundraiser is expected to come in and save the day, which is a recipe for failure.
Kris: In response to this trend, some organizations are offering more flexible schedules that facilitate healthy work/life balance and associated benefits, like strong family leave policies. As Dan said, there are no easy solutions. But listening to your employees and providing the flexibility they're looking for is a good step towards retention.
Marian: While we should focus on retaining top talent, I also think organizations need to understand that this is the state of the market. In other sectors, it's common for people to switch jobs every two to four years.
We can't expect employees to stay for the rest of their career, especially millennials and Gen Z. Nonprofits need to understand that fundraising is not exempt from this trend.
How have you seen nonprofits advance diversity, equity, inclusion, and access in terms of staff recruitment and talent management?
Kris: Many organizations are going through a process similar to what Campbell & Company has undertaken over the past few years: focusing on the organizational culture and striving to ensure that the staff and board are reflective of the community they serve.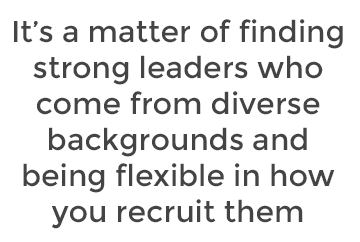 We've seen organizations put their search committees through bias training, use gender-neutral language in job descriptions, and adopt interview questions and feedback procedures designed to reduce and eliminate biases. These are all encouraging and tangible steps in the right direction.
I'm also watching how the use of AI and automated systems for hiring plays into this. These advances can help create a level playing field, but some fear they may reinforce ingrained biases.
Marian: Overall, I do think organizations are paying more attention to DEIA, and they've asked us about it more in the past three years than at any other time. They want to have a diverse pool of candidates, and they're asking us how we go about sourcing. So much work remains, but there's certainly been movement.
Dan: I agree. There's been more real action in the last three years than ever before, not just lip service. I'm seeing racial diversity as the biggest driver now, particularly in the Northeast and on the West Coast.
With such high demand, it's a matter of finding strong leaders who come from diverse backgrounds and being flexible in how you recruit them. Sometimes candidates may have nontraditional profiles, but they could still have skills and talents that are a great fit for the role.
What's the overall hiring outlook for 2020?
Marian: We're very optimistic. As we discussed, there's always the recession concern, but things are going well so far.
Kris: And with CEOs retiring at a rapid pace, there will be many opportunities for organizations to consider who they want to be their next visionary leader in this new decade.
Dan: While I'm always a little more cautious about recessions, I feel positive about 2020. Our Executive Search team had a strong year in 2019, and that's a reflection of growth within the nonprofit sector. I think that's going to continue in 2020. So far, the trends are on our side.