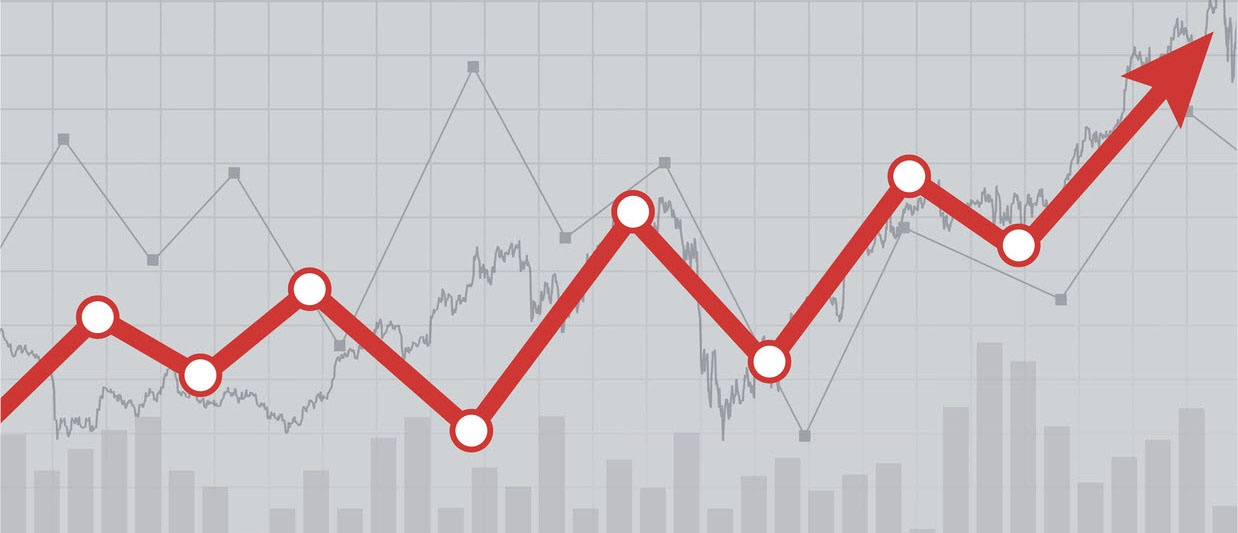 2017 has been a year of unexpected headlines and constant change—beginning with an influx of donor support to progressive organizations and ending with accelerated tax reform efforts. As the year wraps up, Campbell & Company is looking ahead to 2018: We convened our executive team to talk through prevailing trends and gather expert insight on what's to come.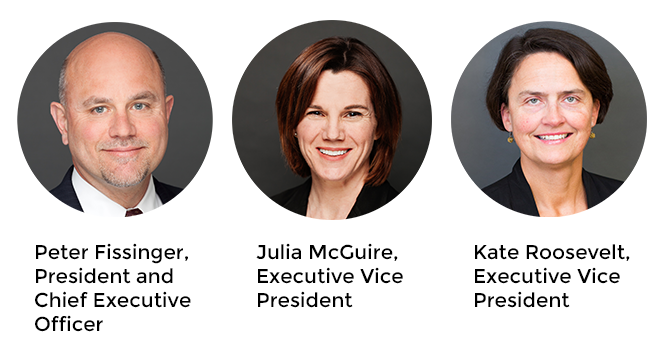 Peter, Julia, and Kate's nonprofit careers collectively span more than 75 years and have touched every corner of the sector. Read our interview with the team for a look at what nonprofit leaders should expect and focus on in 2018.
The way people support causes they care about is constantly evolving. What philanthropic trends are you paying attention to now?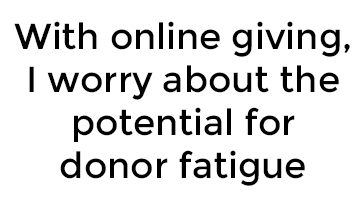 Kate Roosevelt: I'm watching online and mobile giving, combined with crowdfunding—in particular how organizations are using these tools and how they impact ongoing communications, stewardship, and donor retention.
Julia McGuire: With online giving, I worry about the potential for donor fatigue. Every day, people are asked by multiple friends to support their cause—whether that's a GoFundMe or a charitable gift to a nonprofit. The space is getting noisy, so how do you break through that clutter?
I'm also paying attention to impact investing, which I've seen predominantly in California but also in other places with pockets of entrepreneurs. These investors are used to measurable results, and a lot of this rapid, outcome-based thinking demands a novel approach from nonprofits.
Kate: Many of these young, wealthy entrepreneurs are focused on systems change, rather than charity in the traditional sense. What does it mean to invest in people and organizations that are on the ground, reforming public education and solving the homelessness crisis?
Peter Fissinger: Another dominant trend that has caught my interest is the continued rise in donor-advised funds. I think this is the largest evolution that we've seen in giving in the last 10 to 20 years. Before their advent, only the very wealthy had the option to create a family foundation.
Donor-advised funds have democratized the field, giving the more modest but philanthropic family the opportunity to put their money in a fund and talk to their kids about giving.
Following the 2016 presidential election, we saw a surge in donor support to progressive causes. How do you think this development will affect the 2018 fundraising landscape?
Peter: I think it's going to persevere. There's a considerable movement underway that is impacting progressive organizations. Certain organizations have a window of opportunity that is truly substantial. If they can harness these new donors, their fundraising performance could continue to grow over time.
Julia: I agree. I think this phenomenon will continue to sustain itself because it gives people who are discontent a voice and, more importantly, an avenue to make a difference.
Kate: In 2018, the recipient organizations will need to make decisions about what additional resources they're going to dedicate to donor retention strategies: new kinds of communications and different approaches to fundraising appeals.
On a large scale, it remains to be seen how much these practices are going to change and what retention levels these organizations will achieve.
For more on this topic, read our article about the post-election giving surge.
We've recently seen record highs across the U.S. stock market. What other economic patterns should we be watching?
Peter: Disposable income is the single most important economic statistic for giving. I follow changes in disposable income to gauge whether or not philanthropy will rise more than average.
Julia: In general, growth in gross domestic product is also positively correlated to dollars given through philanthropy.
Kate: In addition to these indicators, I think home values are going to be an increasingly important part of the philanthropic picture, particularly as it relates to planned giving. If you look at where I'm based, Seattle continues to be at the top of the list of median home prices nationally.
This has the potential to influence the deferred giving landscape in a pretty big way moving forward.
What political or legislative changes have the greatest potential to impact philanthropy?
Julia: Tax reform. The uncertainty it has stirred up—what will be in it, whether it will pass, and what its effects will truly be—will likely impact end-of-year giving. People may make greater contributions, unsure whether they're going to itemize next year. Others may hold off on estate planning.
Peter: Within the tax legislation, the reduction in the number of people who itemize is the largest shift. It could have a strong impact. However, there are several mitigating factors, including the potential effect that tax reform could have on the economy.
Kate: Beyond changes to the standard deduction, tax reform could impact philanthropy and nonprofits in so many ways. For instance, the current House bill would eliminate the New Markets Tax Credit, which has huge implications for organizations that work in depressed communities.
I also echo Julia's comment about uncertainty. Throughout 2017, legislative uncertainty has rocked nonprofit organizations. In our Giving USA national webinar last June, we heard about the extremely detrimental effect this uncertainty has across the sector.
Many communities were hard hit by natural disasters in 2017. Do you expect this to affect fundraising efforts in the coming year?
Peter: I think it's going to cause a spike in human service giving. The question is, will the response to these disasters depress giving to other areas?
The data suggests that, more than anywhere else, arts and cultural organizations will be impacted.
Julia: I know that, according to Giving USA, contributions to arts, culture, and humanities declined in the wake of giving to Hurricane Katrina and the Indian Ocean tsunami relief.
Kate: I'll also be watching to see whether there is a sustained philanthropic effort over the long term to rebuild communities that were devastated by these disasters.
What are your top two recommendations for nonprofits to focus on in 2018?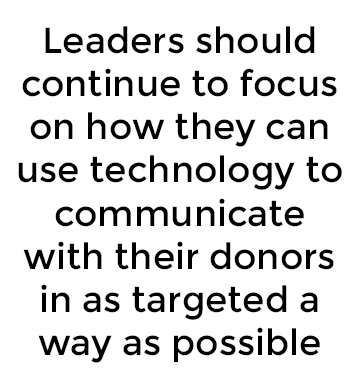 Julia: Given the looming specter of tax reform, organizations need to make a compelling case for support. Remind people why your organization exists, why what you do is important, and why it's vital that you continue this work.
Second, focus on stewarding relationships—this is going to be more and more important at every level of giving. Make sure that your donors understand their impact.
Kate: I'll add that it's critical for organizations to be informed of, aware of, and engaged in legislative processes that are affecting their missions specifically and the philanthropic landscape more generally. Nonprofits also need to interpret and communicate these effects to their donors.
To build on Julia's second point, I advise to double down on donor communications—not only as a stewardship tool, but as an advocacy tool, as well.
Peter: Technology is key to effective donor communications, so leaders should continue to focus on how they can use technology to communicate with their donors in as targeted a way as possible.
More than ever, I'm also stressing donor retention to every single organization with which I work. If people give three or four years in a row, they tend to keep giving. There's a case to be made that this should be the most important fundraising goal that any organization has.
---
Do you have questions about the 2018 fundraising landscape that we didn't cover? Leave them in the comments section below, and we'll share our insights.