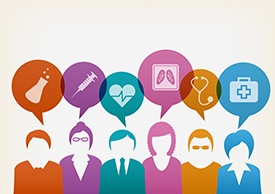 A healthcare organization's annual giving program can create—and sustain—a healthy donor base. Annual giving programs are often the first step in a donor's relationship with your organization, and an opportunity to immediately connect with grateful patients and families and assess their capacity and inclination. Several weeks ago I introduced "6 best practices" that can have a substantial impact on your organization's overall fundraising efforts.
Let's get started with the first best practice, Donor Segmentation.
Essentially, donor segmentation means getting to know your donor base. It is one of the most critical and efficient practices of an annual giving program because the return has enormous potential. The intelligence learned through segmentation will help inform future stewardship and solicitation of donors at all levels of the development continuum—from annual giving to major gifts and planned giving.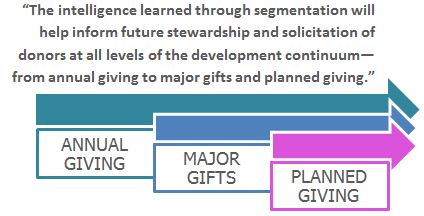 Donor segmentation can be challenging, though. Annual giving programs are responsible for a large volume of donors with varying interests and relationships, which can put a strain on staff and other organizational resources. In order to allocate appropriate resources, data must be leveraged to identify large segments and groups of donors with capacity. Pulling data in a comprehensive format—in real time—can limit these resources and still result in useful segments of donors.
Donor Segmentation in Healthcare Organizations
Each healthcare organization should look internally to identify its unique segmentations based on the organization's vision and constituency. About 88 percent of all gifts to healthcare organizations come from grateful patients and/or families*. Donor segmentation can help you effectively reach this group of inclined donors in your communications—and target those with the largest capacity.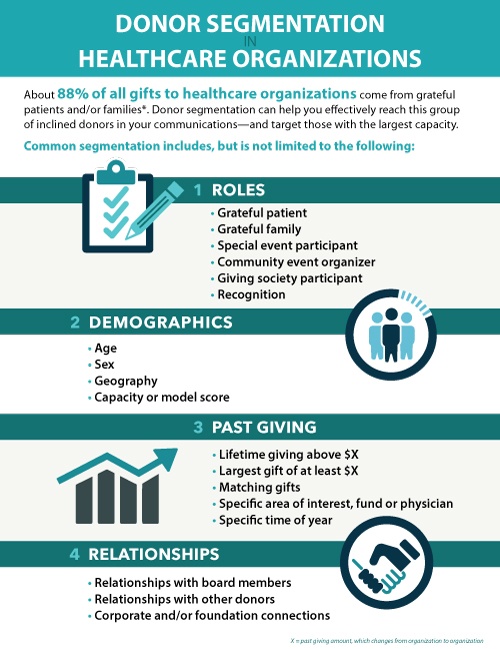 Donor segmentation ultimately leads into the next best practice, Diverse Communication. Donor segmentation can identify pockets of donors that may respond to similar messaging. This information should be used to develop communication materials that either speak to the majority of your constituents or are tailored to defined groups within your donor base. Be on the lookout for communication strategies in the coming weeks.