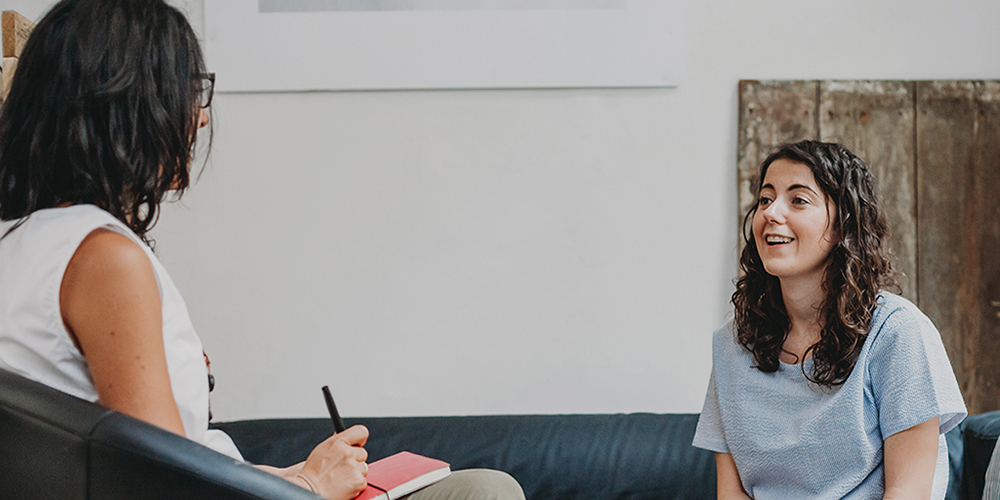 The state of the world has made us want to connect with more of you, more often. For the rest of 2020, the Campbell & Company Communications team is sharing a new article every week that explores a topic in case development and fundraising communications, drawn from our work.
Whether it's thinking about how to approach fundraising communications against the backdrop of current events or tackling an evergreen challenge we see time and time again in nonprofits across the sector, these articles focus on practical tips to empower fundraising leaders in their day-to-day work. Subscribe to the series here.
---
Nothing conveys the true meaning, impact, and weight of your mission like the words of the actual people who benefit from your work every day. It's not just a good way to engage and move your audience—it's the best way to ensure they hear directly from the people who understand your mission best.
Journalists have elevated this mode of storytelling to a high art—crafting complex stories around the power of first-person accounts. Yet nonprofit communications departments often lack the structure, resources, and will to gather and use these precious stories effectively. And both the journalistic and nonprofit worlds too frequently fall into storytelling pitfalls that arise from their predominantly white professional cultures—transmitting biases, problematic narratives, and stereotypes.
In this article, we'll look at what it takes to successfully and responsibly prepare for, conduct, and use an interview in nonprofit communications—and to stay accountable to the people whose stories you're sharing.
Before the interview.
A successful interview and story begins with thoughtful planning grounded in a deep care for the people you serve, as well as staff, volunteers, and donors.
Consider what barriers, challenges, and dynamics are inherent to your stories.
For some organizations, this means navigating HIPAA or other formal privacy guidelines. For all organizations, it means reckoning with the propriety, power dynamics, and consequences of sharing an individual's story—even if they are willing. Sharing one's story can be cathartic and full of pride, but if the story is rooted in hardship, trauma, or experiences of oppression, revisiting and broadcasting it can be painful and traumatic. The time to think about these questions is before you need a story for a piece.
Engage your program staff.
Program staff have the trust and relationships to help you find the right stories to lift up for the right reasons—but in most organizations, advancement departments don't do enough to stay connected with them.
Too often, requests for stories become a chore "for development" rather than a shared goal with mutual understanding. This relationship works best when it goes both ways: you can help program staff understand the purpose and benefit of stories from the field (for fundraising, yes, but also for education, awareness, and connection) and they can help you understand and navigate the constraints, and lead you to the right people.
Identify the right people to feature, even if it takes extra work.
While relationships are critical to identifying the right interview, relationships also reflect our biases. If your staff are mostly white, are they naturally building stronger relationships with other white people, and think of them first for an interview?
The Society of Professional Journalists' Diversity Toolbox urges journalists to do the extra work to move beyond go-to contacts or comfort zones when seeking a story, and nonprofits can do the same by reaching out to connectors who do have relationships with the people nonprofits want to reach (diversity on staff plays a huge role here).
SPJ also recommends examining a newsroom's history of representation to course-correct. For a nonprofit, that might be an audit of your past materials and pieces, especially in fundraising, looking out for representations of complex issues through a singular type of person or experience. For example: Do you naturally think of "scholarship recipients" as students of color, and choose those families over and over again to highlight the need for your scholarship fund?
Ask thoughtfully.
When you ask someone who benefits from your services to share their story, there are unavoidable power dynamics involved. Lean on whoever on staff has the strongest relationship with the individual to navigate this question candidly, and consider the identity of the interviewer. Work around an interviewee's needs to make the conversation as easy as possible, accommodating their preferred location and time frame, and ask in advance about comfort with video if you'll be remote.
Increasingly, nonprofits truly seeking equity in this area are paying people for their time, intellectual capital, and emotional labor to share their stories—especially about experiences with oppression—and if you're serious about equitable storytelling, this is something to explore.
Capture stories before you need them—year-round.
We've seen this scenario a million times: Nonprofit X realizes their overly-rational case for support needs the human touch of a story—but the brochure deadline is three weeks away, and they have to scramble to get an interview or settle for an email exchange in place of a live interview.
Once a year, map out your calendar and identify your opportunities to connect with the people you want to be able to feature—whether through a quick Q&A at an event or a full sit-down interview. Collecting a "story bank" of vetted, well-thought out interviews will allow you to more easily incorporate first-person accounts throughout the year.
Don't rely on empathy alone.
We often tell stories in nonprofit communications to create empathy—connecting donors with the experiences and challenges of people we serve to compel them to act.
Yet as Vu Le has written, storytelling strategies that build empathy through phenomena like the identifiable victim effect can unintentionally reinforce harmful ideas about who is deserving of support and whose struggles are relatable, filtering through the lens of the donor. Look for stories that not only build empathy, but build a true understanding of the issues you address and the greatest needs in their full complexity.
By putting these foundational ideas into practice, you not only set yourself up for effective interviews—you help build an organizational culture that supports effective, responsible storytelling.
The interview itself.
Stephen D. Isaacs, a prominent journalist and professor at Columbia University, laid out Four Principles of Interviews in his teaching. They can be summarized as: prepare carefully, establish a rapport, ask the right questions, and listen attentively. The same can be said of nonprofit communications, with a few tweaks:
Read up.
Once an interviewee is confirmed, do your research on who they are. Go to Google, but also speak with the staff who have relationships. What are they most knowledgeable/passionate about? What unique perspective could they shed light on for your audience? Use that background to inform the specific questions you want to ask—boilerplate questions tend to reveal boilerplate answers.
Show up.
Sitting down face-to-face is often the best way to make a real, human connection and establish the rapport that makes a good interview. When that's not possible, inquire about video. People tend to speak very differently in conversation than they would in writing, so avoid email correspondence where communication can be more stiff, formal, and prepared.
Work your way up.
Beginning with something open-ended and free of assumptions allows a person to introduce themselves while smoothing any initial nerves or awkwardness. Save questions that may be more complex or difficult for later in the conversation, once they have had a chance to get more comfortable.
Listen up.
While you want to be prepared with questions, over-preparing can leave you so worried about getting to the next point that you forget to listen. Leave your list of questions specific and short so there is room for the conversation to unfold naturally. Capture the dialogue in a way that allows you to stay present and maintain eye contact as much as possible, whether that's recording (with consent) or jotting down notes in a notepad so you're not stuck behind your screen.
Follow up.
Always extend the offer for more conversation, and make sure your interviewee has ample time and an open invitation to read, amend, and approve any final edited version of their words before they are shared.

As you prepare your questions, keep a few tips in mind:
Ask open-ended questions. Instead of "When did you first encounter the Community Center?" try "Tell me a little bit more about how you came to be involved with the Community Center."
Ask questions that invite reflection. Try "What surprised you about your experience with the Theater?" or "What's your favorite thing about spending time at the Children's Museum?"
Ask for specifics. Instead of "What was it like to move out of homelessness?" try "If you're comfortable, tell me about the day you moved into a permanent home. What stands out in your memory?"
Ask questions that consider both the past and the future. Exploring the past is an important way to personalize the urgency and need for your work, but a question like "Where do you see yourself in 10 years?" can be a powerful way to convey a broader vision through someone's own words.
Don't assume you know all the right questions. Leave room to ask if the interviewee has any questions for you, or if there were questions you should have asked that you didn't. A simple: "Is there anything else on your mind that we haven't discussed?" can yield a lot.
After the interview.
Once the interview is over, it's up to you to bring it to life. This is where you—the nonprofit communications staff—have the most control and power over the narrative, so remember to use your position responsibly.
Don't edit out voice.
You should edit your interview for clarity, context, and length—but resist a temptation to change the interviewee's voice to match that of your organization. Small word changes can feel innocuous but can inadvertently silence or diminish your interviewee's experience.
Get a good review (or two).
Alongside your interviewee's approval, make sure you have a fresh pair of eyes review your edited story, in the context in which it will appear, to be sure you're conveying the right message. Program staff can be critical partners here.
Experiment with formats.
You may have a format in mind from the get-go, but once you have your story in hand, evaluate what really does it justice.
A powerful message that can underscore a big idea can be effective as a visual pull quote, shared widely on social media through a campaign or an ask. A story with a true beginning, middle, and end will work best as a longer profile. PUBLISH Q&As can be a nice informal way to share an interview in its entirety (or with minimal editing) in newsletters or annual reports, giving your audience an inside view and the interviewee full narrative control. And be creative—one story can yield all three.
Look at the whole narrative—tell a complex story.
An individual's story may be the most powerful tool to connect to an audience, but make sure you aren't oversimplifying the issues. Be clear about what you want your story to illustrate, and use it to lift up an example of urgency, impact, or vision—rather than define it.
---
Bottom line, investing in telling the right story in a responsible way takes time, effort, and sometimes money. But it more than pays off in the power that story brings—to move a donor from ambivalence into action, to educate a community about an important issue, to build critical relationships within your organization, and to connect us to the people we serve. Stories have power, and as nonprofit communicators, we have power with them. It's up to us to use them for good.