Charitable giving reached a record high of $471 billion in 2020, according to Giving USA: The Annual Report on Philanthropy. Overall, giving increased by an estimated 5.1% over 2019. The report reflects a unique and complex year in giving, as economic indicators were broadly mixed and donors were motivated by multiple crisis events such as the pandemic and the racial unrest created by the murder of George Floyd.
Peter Fissinger, President and CEO of Campbell & Company, commented on the 2020 Giving USA results. "To see giving increase by 5.1% during a year where many donors and fundraisers were barely able to leave their homes is remarkable. These results show the resiliency of both donors and those working at nonprofit organizations. Food banks had to reinvent their delivery models. Arts organizations closed their doors. Educational institutions adapted by teaching and learning remotely. Through all of this, Americans continued to support a broad array of causes and also responded to crisis across the country."
The year 2020 was unforgettable in many ways. The COVID-19 pandemic created obstacles and great changes to the way we live our daily lives. Many meetings and gatherings became remote, we became more concerned about our health, and we had to miss out on many special events. We also saw the disparities in healthcare for communities of color. These communities experienced a higher rate of infection and death from COVID-19. Because of this, we looked for ways to rectify these disparities.
A historic shift in the focus on the racial justice movement also contributed to the recent giving trends. A sharp focus grew that focused on systemic issues impacting communities of color. As the U.S. came to recognize this, new giving patterns occurred.
At a 16.26 percent gain, the S&P 500 had an incredible finish at the end of 2020. Disposable personal income increased $111.6 billion, 0.6 percent. However, unemployment also rose to record highs in 2020. The result of these mixed economic factors contributed to disparate results, where some nonprofit organizations and causes saw their giving spike while others experienced significant downturns in their fundraising results.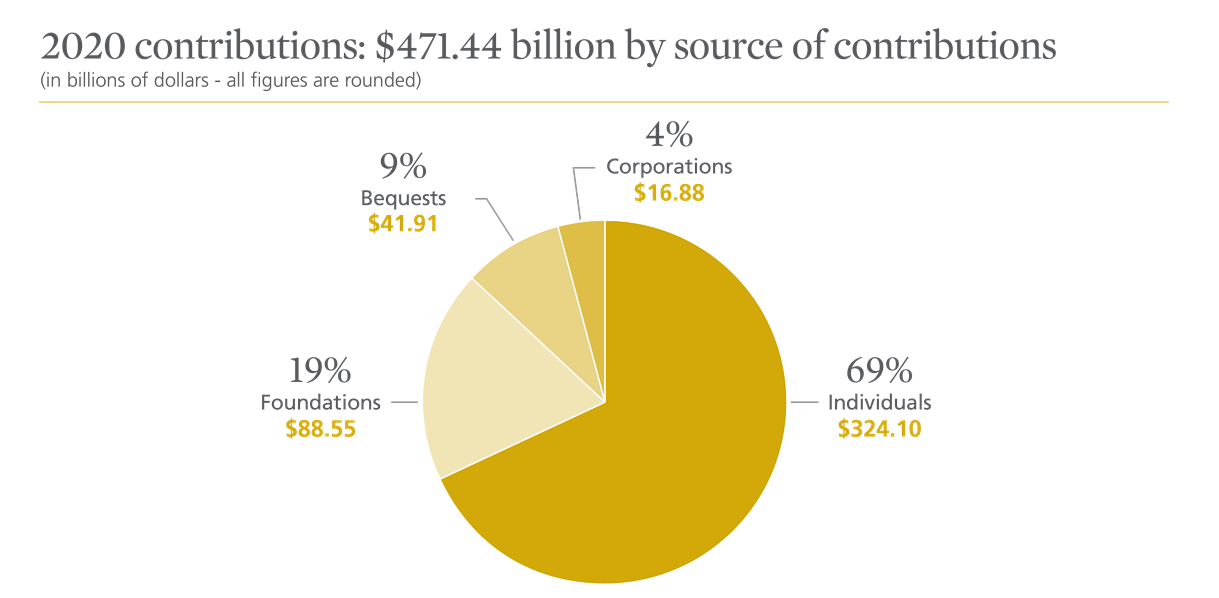 Key Findings:
Giving rose in three of four sources between 2019 and 2020. Giving by individuals totaled approximately $324.10 billion, which was a 2.2 percent rise, or a 1 percent increase when acknowledging inflation. There was a 17 percent increase from foundation giving: $88.55 billion, and it was a 15.6 percent increase adjusted for inflation. Giving by bequests totaled about $41.91 billion, growing 10.3 percent, which was an inflation-adjusted increase of 9.0 percent.
Giving from corporations had an estimated decline of 6.1 percent in 2020, with a total of $16.88 billion. This meant an inflation-adjusted decline of 7.3 percent.
In subsector donations, public-society benefit organizations saw a 15.7 percent increase from 2019 to 2020. At $48.00 billion, these organizations experienced a 14.3 percent inflation-adjusted growth in giving.
Between 2019 and 2020, giving to individuals had an estimated growth to $16.22 billion: an increase of 12.8 percent and of 11.5 percent in inflation-adjusted dollars. Evidence of this increase comes from patients in need of medication receiving such donations from the foundations of pharmaceutical companies.
Environmental organizations, as well as animal support organizations, had an increased giving of 11.6 percent over the past two years (10.3 percent with inflation adjustment). This amount has reached $16.14 billion.
Giving to the arts, culture, and humanities faced a difficult year because of pandemic closings. There is an estimated decline of 7.5 percent, 8.6 percent considering inflation: $19.47 billion.
We note that unallocated giving resulted in negative $22.13 billion in 2020. This is the difference between sources giving and a certain year's use.
Campbell & Company is proud to share these findings and to continue the advancement of the nonprofit sector. Our coverage of Giving USA includes virtual events. To learn more or to sign up, visit our events page.
The Giving USA foundation released Giving USA 2021: The Annual Report on Philanthropy to the public at 8:00 a.m. Central on June 15, 2021. To buy Giving USA materials, please visit this link.