According to Giving USA 2019: The Annual Report on Philanthropy, charitable giving in the United States reached $427.71 billion in 2018. This represents a slight increase of 0.7 percent in current dollars and a decline of 1.7 percent when adjusted for inflation. Following four years of steady growth in giving, these mixed results for 2018 reflect a complex giving environment, influenced by economic conditions, public policy, and significant tax law changes.
In 2018, several economic indicators associated with giving posted healthy growth: disposable personal income increased 5 percent[1] and GDP increased 5.2 percent,[2] both in current dollars. Conversely, many factors may have negatively influenced giving in 2018, including a 13.97 percent fourth quarter plunge in the S&P 500 after increasing in the first three quarters,[3] uncertainty around policies governing trade and state and local income tax deductions, and the Tax Cuts and Jobs Act of 2017.
"In 2018, a host of external forces impacted charitable giving. This complicated landscape affected each giving source and type of recipient organization differently, creating uneven results across the nonprofit sector," notes Peter Fissinger, President and Chief Executive Officer of Campbell & Company. "Moving forward, nonprofit leaders and fundraisers need to stay nimble and work to understand how current events have affected their donors."
"While total giving was relatively flat in 2018, it's important to view this result in the context of multi-year trends. Our sector experienced several years of strong growth in giving prior to 2018. In the coming months, we need to focus on regaining that momentum by meeting donors where they are, using technology to streamline and enhance our work, and adapting to changing circumstances."
Watch Campbell & Company's Giving USA video to explore the report's headlines:
Key Findings
Between 2017 and 2018, giving increased in current dollars for two donor types—foundations and corporations—while decreasing for individuals and remaining the same for bequests.
Giving by individuals declined by 1.1 percent in current dollars and made up 68 percent of total giving—the first time it has dropped under 70 percent in over six decades. Stock market volatility, tax law changes, and increased giving through donor-advised funds and family foundations may have contributed to this result.
Grantmaking by foundations grew by 7.3 percent and giving by corporations increased 5.4 percent, both in current dollars. A robust economic environment likely impacted these positive outcomes.
2018 contributions: $427.71 billion by source (in billions of dollars—all figures are rounded)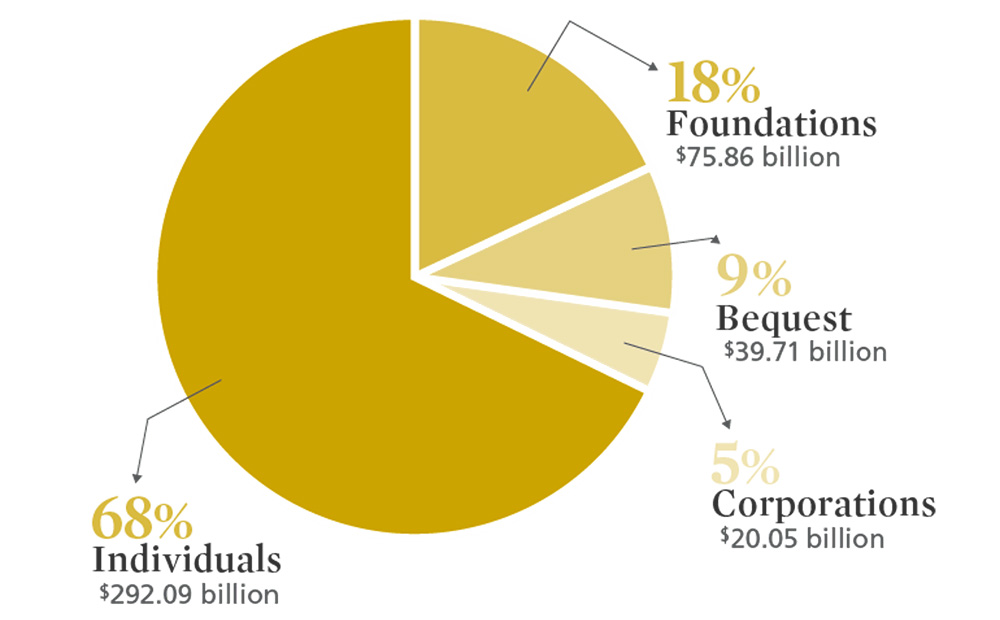 Recipient organizations experienced uneven results in 2018: two sectors recorded significant growth, three stayed relatively consistent, and four declined.
Giving to international affairs and environment/animals posted strong performances, growing 9.6 and 3.6 percent in current dollars, respectively—results influenced by disaster giving and heightened awareness of environmental issues.
Changes in giving by type of recipient organization, 2016-2017, 2017-2018, and 2016-2018 (in current dollars)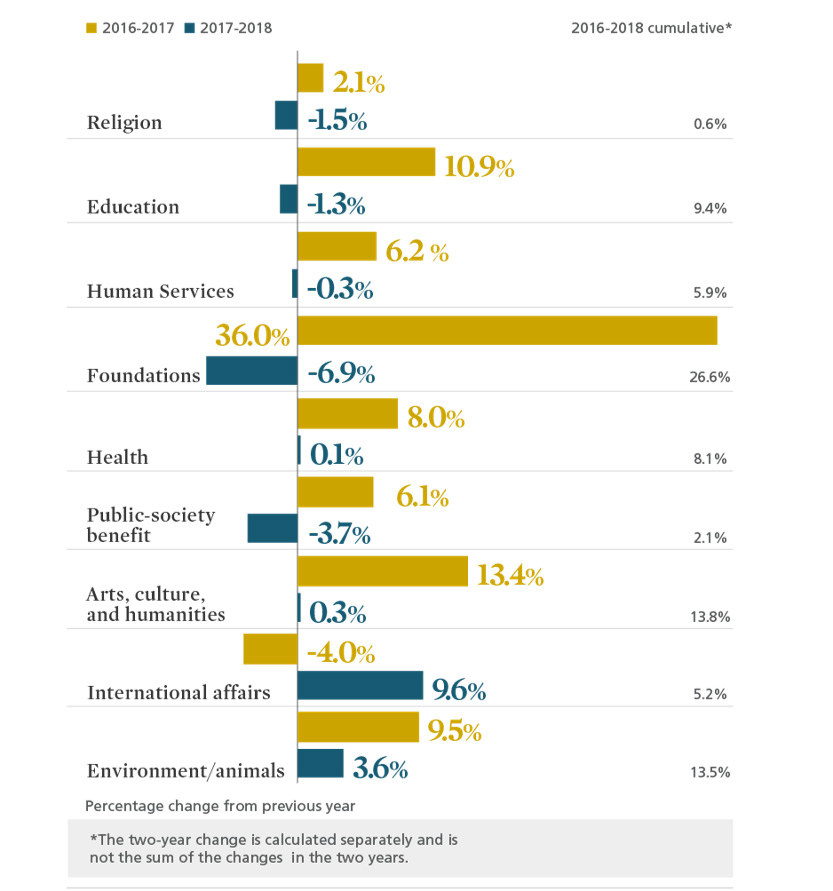 Giving to arts, culture, and humanities increased 0.3 percent in current dollars, while giving to health organizations increased 0.1 percent and giving to human services declined 0.3 percent.
Giving to education, religion, public-society benefit, and foundations decreased in 2018. Giving to education and religion recorded modest declines in current dollars—1.3 and 1.5 percent, respectively. Decreases in giving to public-society benefit and foundations were more substantial, at 3.7 and 6.9 percent, respectively.
All sectors saw positive two-year growth from 2016 to 2018. Given the strong showing in 2017, decreases in giving to certain sectors may be course corrections rather than larger trends.
Campbell & Company is proud to share key findings from Giving USA and contribute to advancing the nonprofit sector. Our full Giving USA coverage includes five in-person events across the country and two webinars that allow nonprofit professionals to dive into the data. To learn more or RSVP, visit our Giving USA events page.
The Giving USA Foundation released Giving USA 2019: The Annual Report on Philanthropy to the public at 9:00 a.m. Central on Tuesday, June 18, 2019. To purchase Giving USA materials, please visit givingusa.org and use code campbell to receive 30 percent off.
---
[1] https://www.bea.gov/news/2019/personal-income-and-outlays-december-2018-personal-income-january-2019
[2] https://www.bea.gov/news/2019/gross-domestic-product-4th-quarter-and-annual-2018-third-estimate-corporate-profits-4th
[3] https://www.cnbc.com/2018/12/31/stock-market-wall-street-stocks-eye-us-china-trade-talks.html