According to Giving USA 2020: The Annual Report on Philanthropy, U.S. charitable giving reached $449.64 billion in 2019, a 4.2 percent increase in current dollars over 2018. Total giving in 2017, 2018, and 2019 represent the three highest levels on record.
In 2019, individuals drove this generosity, buoyed by a robust economic environment. The S&P 500 soared 28.9 percent over 2018,[1] while disposable personal income increased 4.3 percent[2] and GDP grew 4.1 percent,[3] all in current dollars. These three economic indicators are closely tied to charitable giving, paving the way for strong growth in giving in 2019.
"As our sector faces unprecedented challenges in 2020, the Giving USA data from 2019 provides vital context. It also illuminates multi-year trends that can inform how we adapt to uncertainty today and plan for the future," explained Peter Fissinger, President and Chief Executive Officer of Campbell & Company.
"We entered 2020 with tremendous momentum: giving from three of four donor types grew in 2019, as did giving to eight of nine subsectors. Moving forward, we know that economic, political, and social factors will continue to impact charitable giving. Nonprofit leaders and fundraisers must respond with innovation and creativity, nurturing donor relationships and making a strong case for supporting their organizations."
Key Findings
From 2018 to 2019, giving increased in current dollars for three donor types: giving by corporations grew by 13.4 percent, followed by giving by individuals (4.7 percent), and giving by foundations (2.5 percent). Giving by bequest experienced flat growth of 0.2 percent.
Foundations and bequests comprised a larger share of total giving in 2019 compared to earlier years. An aging population, growing wealth inequality, and the creation of new foundations—even as giving from donor-advised funds increases—contributed to this shift.
Giving by individuals made up 69 percent of total giving in 2019, the second year it has dropped below 70 percent. This share has continued to decrease over time. The share of giving by corporations remained relatively steady in 2019.
2019 contributions: $449.64 billion by source (in billions of dollars—all figures are rounded)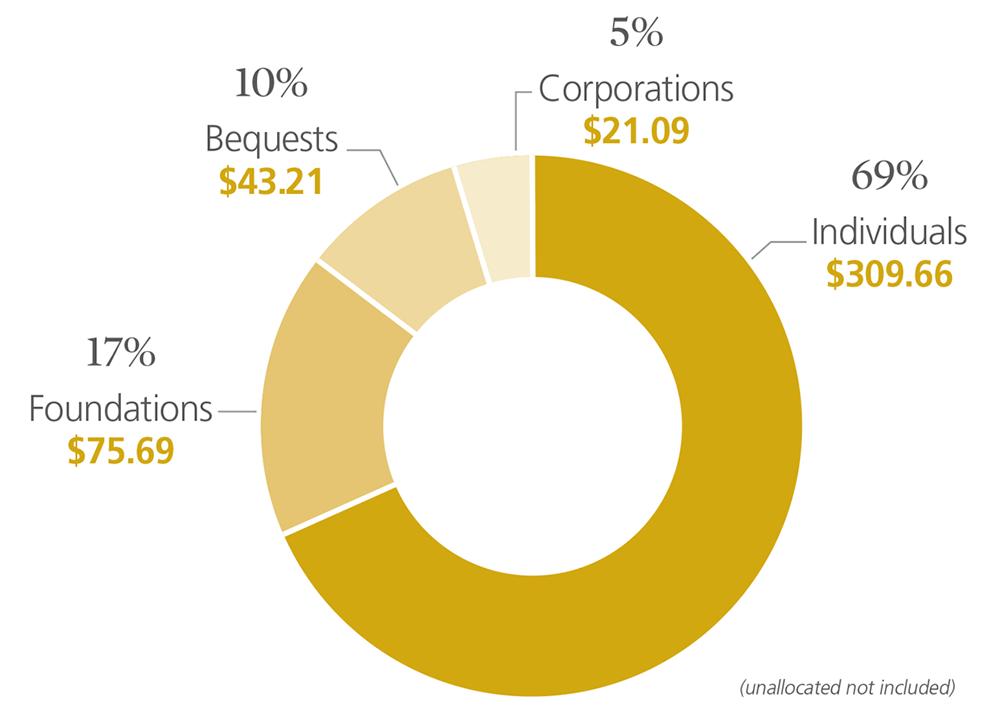 In 2019, giving increased to all subsectors except for international affairs. Giving to international affairs decreased 0.4 percent in current dollars, following strong growth in 2018. A lack of highly visible international disasters in 2019 may have contributed to this trend. Zooming out, international affairs recorded positive five-year growth.
Four subsectors experienced double digit growth from 2018 to 2019: public-society benefit by 13.1 percent; arts, culture, and humanities by 12.6 percent; education by 12.1 percent; and environment and animals by 11.3 percent, all in current dollars.
Large gifts directed to public-society benefit, arts, and education lifted growth in those subsectors. Environment and animals benefited from innovative fundraising practices and a public policy environment that has spurred greater giving to the subsector.
Changes in giving by type of recipient organization, 2017-2018, 2018-2019, and 2017-2019 (in current dollars)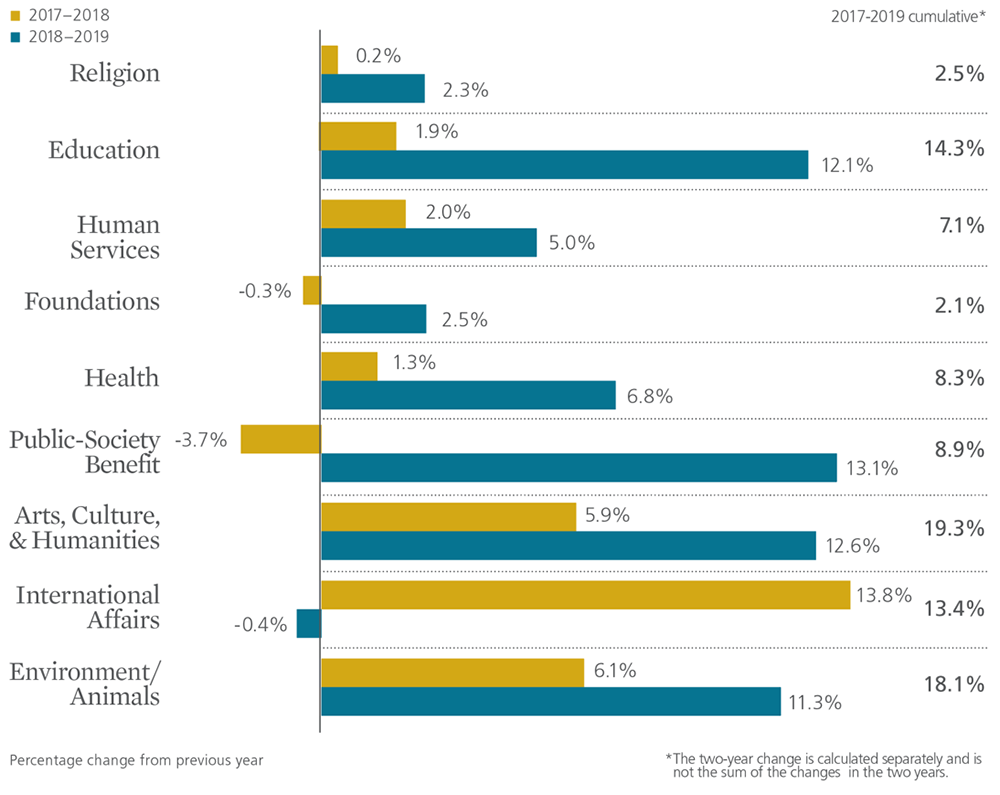 Giving to health grew 6.8 percent in current dollars, followed by giving to human services (5.0 percent), giving to foundations (2.5 percent), and giving to religion (2.3 percent).
All subsectors saw positive two-year growth from 2017 to 2019, with arts, environment, and education recording the strongest showings. High-net-worth individuals tend to favor arts and education causes, and donors have placed a higher priority on environmental causes in recent years.
Campbell & Company is proud to share Giving USA findings and contribute to advancing the nonprofit sector. Our Giving USA coverage in 2020 includes a series of virtual events. To learn more or sign up, visit our Giving USA events page.
The Giving USA Foundation released Giving USA 2020: The Annual Report on Philanthropy to the public at 8:00 a.m. Central on Tuesday, June 16, 2020. To buy Giving USA materials, please visit givingusa.org and use code campbell to receive 30 percent off.
---
[1] "S&P 500 Stock Price Index (S&P 500)," Federal Reserve Bank of St. Louis, FRED® Economic Data, 2019, http://research.stlouisfed.org
[2] "Personal Income and Its Disposition," Bureau of Economic Analysis, U.S. Department of Commerce, 2019, www.bea.gov
[3] "Gross Domestic Product," Bureau of Economic Analysis, U.S. Department of Commerce, 2019, www.bea.gov