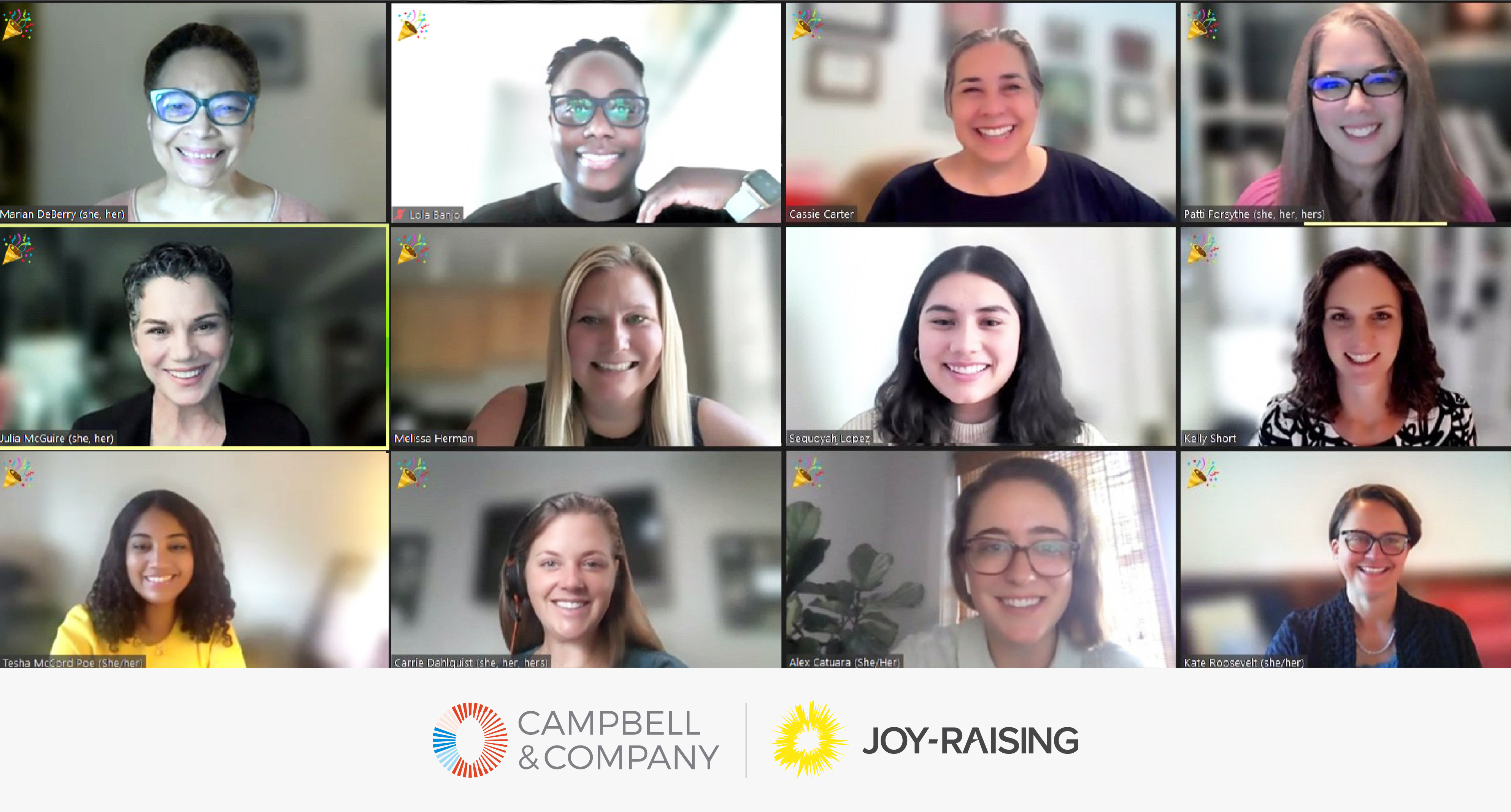 Chicago, IL – August 31, 2022 – Campbell & Company (CC), an employee-owned national consulting firm with expertise in fundraising, communications consulting, strategic information services, and executive search, announces its strategic partnership with Joy-Raising, LLC, an international consultancy that offers expertise in philanthropy and diversity, equity, and inclusion. 
Joy-Raising has two aims: (a) to help people of color thrive as donors and professionals in philanthropy, and (b) to help those in philanthropy collaborate inclusively. Joy-Raising will provide a range of services to enable Campbell & Company to meet its diversity, equity, inclusion, and access (DEIA) goals to leverage the firm's distinct strengths and expertise to build greater equity and inclusion across the nonprofit and philanthropic sectors. 
The CC+Joy-Raising strategic partnership will identify opportunities to proactively engage with Campbell & Company's clients to implement social change and promote racial equity across the fundraising ecosystem. In addition, the partnership will also increase inclusive hiring practices in leadership roles in nonprofit organizations to drive more resources and impact across all segments of the nonprofit sector.
"We are thrilled to enter this partnership with Joy-Raising," says Kate Roosevelt, Campbell & Company Co-President. "As consultants committed to helping mission-driven organizations create their social-good, Joy-Raising will help us foster an environment where transformational change will help nonprofit leaders develop related-fundraising practices that prioritize inclusion and equity in the broader society."
Fundraising and philanthropic fields are not immune to systemic racism, and charitable organizations are slowly adjusting their mission to galvanize equitable investment and increase giving, particularly to uplift BIPOC communities. Because systemic inequities continue to exist, change can be challenging. However, there are known nonprofit organizations that have activated movements and worked for social justice as they passionately pursue their missions.
"Joy-Raising and Campbell & Company share a common belief that by recognizing and addressing barriers and bias in the nonprofit sector, we can help people of color thrive in all areas of fundraising and other advancement roles. In addition, help those in this space practice a more inclusive form of fundraising and philanthropy. Our true hope is that this work will reach far beyond the direct work of our consultancies and our partnership," states Tesha Poe, Founder, and CEO of Joy-Raising.
Campbell & Company is committed to advancing diversity, equity, inclusion, and access that inspires action. We reflect the rich diversity that contributes to the communities we serve, and we advance our beliefs through our employment practices. We strive to create a culture of trust and belonging where everyone feels accepted, respected, and valued for who they are as individuals. Joy-Raising was founded to help Campbell and Company and other organizations accomplish these goals, and fully realize their vision of inclusion.
###
About Campbell & Company
Campbell & Company is a national consulting firm that helps organizations create greater impact through fundraising, executive search, communications, and strategic information services. Since 1976, Campbell & Company has helped shape the evolution of fundraising as a practice in all sectors, including human services, arts & culture, education, healthcare, environment, associations and membership organizations, and civic and public affairs.
Underlying all our work is a shared focus on the Campbell & Company mission: to collaborate and innovate with people who change lives through philanthropic vision and action. To learn more, visit www.campbellcompany.com and connect with us on LinkedIn, Twitter, Facebook, and Instagram.

About Joy-Raising and Tesha McCord Poe
Founded in 2019, Joy-Raising was established to work with organizations to address issues that prevent the philanthropy sector from being fully inclusive. Most often, these challenges do not come from an ill will but are the vestiges of historical practices that created bias and inequity for centuries. While much progress has been made, much remains to be done. Joy-Raising's clients include organizations throughout the U.S. and abroad, including Germany, France, and Tanzania.
Tesha McCord Poe is the CEO and Founder of Joy-Raising, LLC. She is a passionate educator and fundraiser who uses her legal and business background to leverage and support the long-term success of nonprofit organizations. Before launching Joy-Raising full-time, Tesha spent more than a decade working as a senior administrator in Independent Schools from K-12, most recently as the Interim Head of School at Girls' Middle School in Palo Alto. In her work as a front-line fundraiser, Tesha has been instrumental in raising approximately $100M. Her nonprofit leadership currently includes the boards of Eat REAL, Prospect Sierra in Richmond, California, and the Mariposa Foundation DR in the Dominican Republic, where she serves as Board Chair.    
Tesha is a graduate of the University of Chicago Laboratory Schools, and a proud alumna of Barnard College, Columbia University with a B. A. in economics, and Northwestern University with a JD/MBA, where she was named the Kennedy Scholar. A compelling writer and speaker, Tesha is the co-author of the upcoming book Beyond Widow and a presenter for the upcoming TEDxBoston which is dedicated to planet sustainability.
To learn more, visit www.joy-raising.com, and connect with Joy-Raising on LinkedIn, Twitter, Facebook, and Instagram.
For media inquiries, please contact Lola Banjo, Director of Marketing, at lola.banjo@campbellcompany.com or call 312.896.8893.