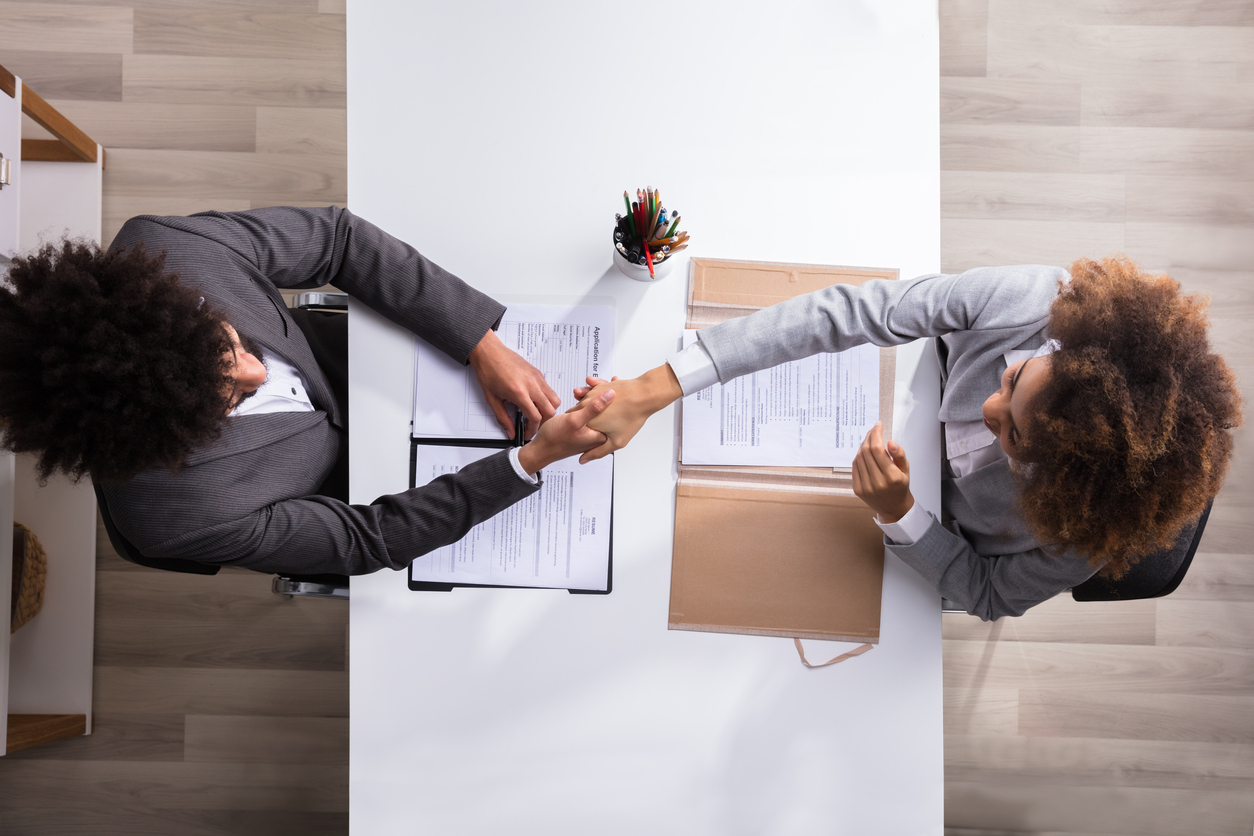 If we've flexed any muscle in Executive Search over the past year, it's our adaptability muscle. Transitioning to fully virtual interviews during the pandemic era was disorienting at first, but together, we and our partner organizations have really gotten into a groove. Necessity is the mother of invention, and we've found ways to help our partners meet, assess, hire, and onboard Executive Directors and CEOs without ever meeting them face-to-face. Now that much of the country is reopening, hiring managers and search committees are feeling a bit of whiplash. We're hearing the questions more and more: "Can we return to in-person interviews? And if we can, should we?"
Our best answer is, "Yes, to an extent." Let's face it: There is no replacement for meeting someone in person and getting a feel for their presence in a room. However, with some remote work seemingly here to stay, and future virus surges threatening additional restrictions, it's important to know how a candidate performs in a virtual format, too. Plus, candidates, who are now accustomed to new ways of working, are demanding flexibility more than ever before. And in order to woo top talent, organizations need to prove that they have evolved to meet the present moment.
Read on for tips on how to re-introduce the in-person interview smoothly, responsibly, and equitably.
1. Wait until the finalist stage to meet candidates face-to-face.
If you're hiring for an executive-level position, you're likely to have multiple rounds of interviews. Have your first-round meetings over video to get to know the candidates, and make sure you are serious about them before asking them and your fellow interviewers to assume the risks of an in-person meeting. (Bonus: you may save your organization money in travel reimbursement costs!)
2. Make sure that all of your finalists are comfortable traveling and/or meeting in person before you move forward with plans.
For the sake of equity, it's important that all candidates have the same experience, and that all decision-makers experience candidates the same way. Imagine a scenario where the best person for the job has an immunocompromised family member that they care for, and traveling by plane at this time isn't worth the risk to their family. You meet that person only over Zoom. If another candidate has the opportunity to meet the search committee in person, they might be favored for their strong eye contact or warmth in the room, qualities that the first candidate is not able to showcase.
3.

Clearly communicate your organization's COVID-19 policies.
You absolutely can and should enforce your organization's policies around masking, social distancing, testing, and even vaccination. Just remember that a candidate isn't an employee just yet. A good guideline is that candidates should be held to the same standard as guests while they are interviewing. You might say, for example, "We look forward to seeing you at our offices tomorrow. Please note that we are asking all visitors to be fully vaccinated or wear a mask." (Just keep in mind that if a candidate wears a mask during their entire interview, this demonstrates that they are respecting your rule, and it should not be viewed as a negative during deliberations.) In the meantime, make sure candidates are aware of any COVID-related policies you have in place for employees, so that you can ensure they are comfortable complying with your rules should they get the job.
4. Embrace "hybrid."
Assuming all candidates are comfortable meeting with you on-site, you'll need to determine whom from your organization to include in the interview process. it's likely that some participants will be in-person and some may need to join by videoconference. Provide video links for each meeting, and make sure someone in each group is in charge of setting up the virtual component (i.e. don't leave this to the candidate!). Another option is to intentionally divide the day between in-person meetings (e.g. a lunch with search committee members) and virtual meetings (e.g. a Zoom presentation to the Board). This works well because the candidate can really optimize their meeting or presentation style for each scenario.
5. Assign each candidate a "Host" for the day.
It can be harder for candidates to sense the energy and culture of an organization if the interview process is partially virtual and the office is half-empty. That means that hospitality is more important than ever. The search committee chair or another search committee member can act as the candidate's "Host," taking them on a tour of the site (and the city if they're from out of town), leading them through their meetings for the day, and generally making them feel prioritized and welcomed.
Just as the virtual interview was appropriate for 2020, the hybrid interview may be a good fit for 2021 and beyond. Ultimately, you should do what feels right for your organization. The right leader for you will need to fit within your culture, after all. We invite you to build off of our experiences to design a safe, fair, and fulfilling interview process for all.
Note: An earlier PUBLISH version of this article firmly discouraged employers from asking candidates about their vaccine status; this guidance was adjusted as vaccine requirements by employers have become more common.