Maybe your organization needs reports, but doesn't know how to generate them efficiently. Or perhaps your organization already generates reports, but isn't using them effectively. If you fall into either bucket, we hope this post might be helpful to your work.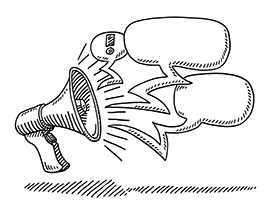 Relationship Management Reports and the metrics they represent can tell you whether or not your efforts are advancing your institution's mission and vision. Yet, of the institutions we surveyed during a recent Campbell & Company webinar, over 90% were dissatisfied with their organization's relationship management reporting capabilities.
The right reports can help you connect daily, monthly, and quarterly activity to your annual goals. Reports can assure that you are:
Focusing on outcomes
Delivering clarity for key stakeholders
Providing accountability and transparency
Providing incentives that advance goals
You may already use relationship management software, like Raiser's Edge or DonorPerfect, that you can leverage to compile data. Most of these also partner with reporting platforms that help you turn the data into valuable reports.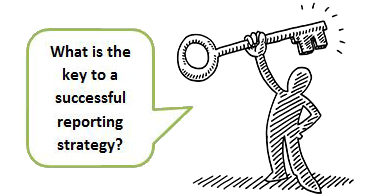 1. Identify Your Users
You will first want to identify who will use the reports (these are your end users). Of our survey respondents, 90% of their end users wanted reports to support the various relationship management stages: prospect identification, qualification, cultivation, solicitation and stewardship.

Ask your end users what information they need and how they would like it presented. Will it be used to track incentives or will it be presented to the board or to donors? How detailed does the information need to be: by prospect, by individual team member, by total team, or for the total organization? Be sure to build in reporting flexibility. For instance, you may not want volunteers to see the same level of detail as management.
2. Determine Your Inputs
Your reports will only be as good as the data you collect, so make sure everyone is on the same page, and that one individual isn't tracking inputs differently from another. Do a test run for two or three data points, and then mock up a sample report. Does the report reflect the inputs accurately? Are the outputs what you expected? Was the process simple, or was it too complicated?
If the results are not satisfactory, you may have to look into additional resources, like a third-party reporting platform or outside development support. One thing you also want to avoid is data manipulation. If there is an issue with the data, it should be addressed in the database. Some third party tools such as Microsoft Excel make it too easy to make a mistake when manipulating the data. This manual process is not only time-consuming, but it also presents many opportunities for errors.
3. Design Your Outputs and Do a Test Run
Ask your end users how they would like the information to be displayed. In matrices? In pie charts? In bar graphs? Just be conscious of the "real estate" that is required for these visuals. Check to see if the information fits well on a desktop screen, on a one-or two-page report, or on a PowerPoint slide. The goal is to have reports that are accessible on-demand by all of your end-users. This means having outputs that are easy for them to drop into other documents.

Prepare samples and review them with your end users. Get their feedback and buy-in at this point, before moving too far ahead. This is usually a back-and-forth process, so establish realistic expectations for turnaround of the final report roll-out. Preparing a sample is one thing. Generating an institution-wide report can be a significant challenge. Being completely transparent and providing regular progress reports will go a long way toward developing credibility.
4. Schedule the Rollout
Once you are comfortable with your inputs and outputs, make communication a priority. Publicize impending reports, and then announce their availability. You will probably want to schedule training sessions with end users so they understand how to conduct queries and generate reports.
After it has been in use, your system may need some tweaks and refinement, so stay in touch with your users for their continual feedback. This is the only way you'll know if your efforts have been useful.
Do you have questions about how you can improve your Relationship Management reports, or do you need help with developing tailored reports that help track the most important information? We partner with hundreds of nonprofits to design and improve their relationship management reports. We are happy to further discuss how we can help improve your reports too.
For more information or answers to your questions, please contact Carrie Dahlquist or Michael Furlong.