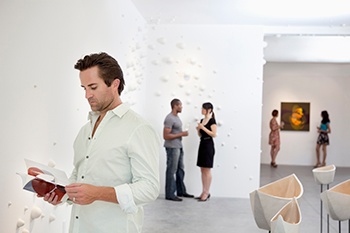 The buying and selling of art – especially contemporary art – has been in the news a lot lately. In May, Christie's sold over $1 billion of art in just three days. Rival Sotheby's did well too; its 63 lots of contemporary American art sold for an average of over $6 million each, totaling over $380 million.
The crowds filling auction rooms are abuzz, and represent not only the faces and names that Christie's has on speed dial – increasingly, auctions rooms are filled with young celebrities, entrepreneurs and representatives of the international mega-rich. This is a new audience for art: one that apparently
prefers art over gold
as a means for storing wealth, and one that is ripe with opportunities for art museums that bring them into the fold.

"Many assume that these individuals are acquiring art only as a status symbol; smart fundraisers will challenge that assumption and work to create partnerships with these new collectors."
Here are some suggestions on what museums can do to connect with this new population of art collectors:
1. Be an expert.
As new collectors join this elite club, museums can build a relationship by showing them the ropes. Museum staff members have tremendous knowledge that would be of value to a new collector. Curators can share tips on what to look for when buying art. Historians can illustrate how their piece fits within a movement or period. Conservators can explain how to care for the work to ensure its preservation. The ability of a development staffer to facilitate these invaluable experiences will almost certainly pay philanthropic dividends.
2. Remember that art becomes personal.
While new collectors may, at first, consider art a practical means for storing wealth, this transactional approach is often short-lived. Before long, the collector's relationship to the art transforms, so that the "dollars and cents" approach to decision-making no longer applies. Take Stefan Edlis and Gail Neeson, for example, who recently donated 42 iconic pieces of contemporary art to the Art Institute of Chicago, valued at over $400 million. While they could certainly have sold the art, they opted to donate it because the Art Institute promised to keep the works grouped together and on public view for 50 years.
3. Partner with curatorial staff on the long view.
Very few homes have conditions suitable for displaying or caring for fine art, meaning that artwork is often donated upon death. For example, Jerry Perenchio, former owner of Univision, recently announced that he would leave his collection, valued at $500 million, to the Los Angeles County Museum of Art. However, such agreements are often left to the curatorial staff to pursue, with fundraisers brought in as necessary. As fundraisers work to build relationships of trust with collectors, it is critical that they are included in these conversations, and involved throughout the lifespan of the donor relationship with the museum.
4. Offer public recognition…but only if they want it.
While some collectors are very private, those that appreciate art as a highly visible display of wealth will certainly value public recognition. Don't shy away from opportunities to make their generosity, or even just their affinity, known. Profiles in newsletters and other materials, naming opportunities, and "red carpet" cultivation events are great opportunities to connect with these collectors.
5. Don't forget about cash gifts.
Collectors have only a portion of their wealth in art. A quick review of some of the known, major art collectors in attendance at Christie's most recent auction demonstrates that some buyers support museums at a significant level. Larry Gagosian, owner of Gagosian Gallery, has made numerous five-figure gifts to the Museum of Contemporary Art in Chicago, the Museum of Modern Art (MOMA) in New York and the Smithsonian in Washington DC. Michael Ovitz, former Walt Disney President and avid art collector, has also made many five-figure gifts to MOMA.
As with any new donor, the road to a successful solicitation may be long – but with creative planning and thoughtful execution, fundraisers can harness this exciting time in the world of contemporary art to advance philanthropy for art museums.
What do you think? Can buyers be donors? Leave us a comment below. Would love to hear your thoughts!