Tuesday, June 21, 2022: 12:00 – 1:00 PM Central
Cost: Free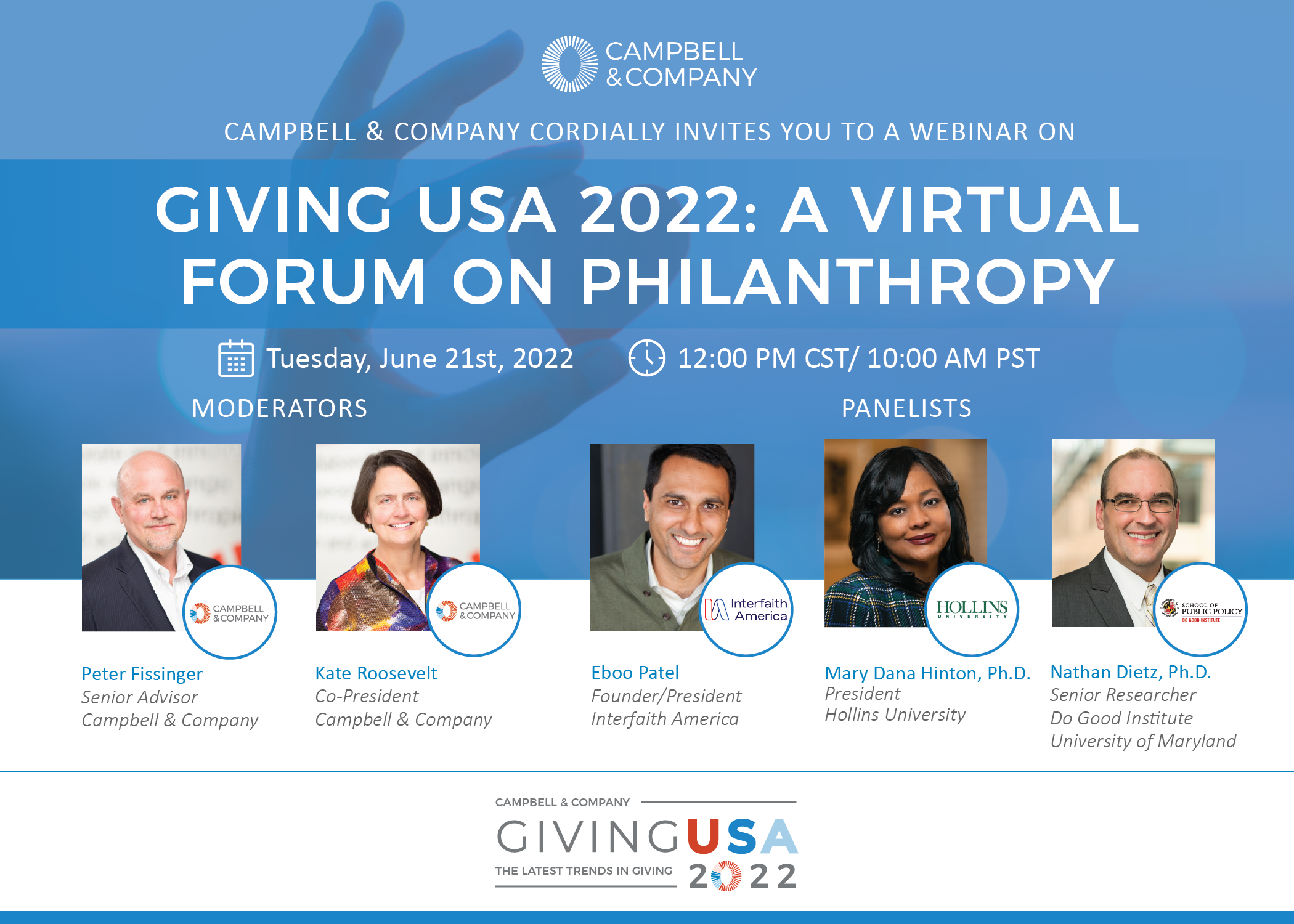 About this webinar:
Hosted by Campbell & Company, Giving USA 2022: A Virtual Forum on Philanthropy is an online gathering for leaders across the nonprofit sector.
On June 21st, Giving USA will release its annual report on philanthropy, publishing in-depth research on giving in 2021. Campbell & Company will take note of 2021's biggest headlines, as well as what we can expect in 2022. Observing these trends will allow us to decide how to address sector issues proactively.
Attendees will be among the first to hear the results of Giving USA's research, and we will provide space for leaders to discuss the adapting world from their perspectives. Our panelists include: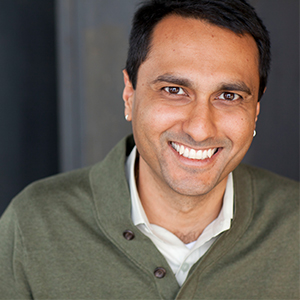 Eboo Patel, Founder/President, Interfaith America
Mr. Patel is a widely acclaimed civic leader who believes that religious diversity is an essential and inspiring dimension of American democracy. Named "one of America's best leaders" by US News and World Report, Mr. Patel is the Founder and President of Interfaith America (formerly Interfaith Youth Core), the leading interfaith organization in the United States. Under his leadership, Interfaith America has worked with governments, universities, private companies, and civic organizations to make faith a bridge of cooperation rather than a barrier of division. He served on President Obama's Inaugural Faith Council, has given hundreds of keynote addresses, and has written five books, including "We Need to Build: Fieldnotes for Diverse Democracy" published in May 2022.
Mr. Patel is an Ashoka Fellow and holds a doctorate in the sociology of religion from Oxford University, where he studied on a Rhodes scholarship. He lives in Chicago with his wife, Shehnaz, and two sons.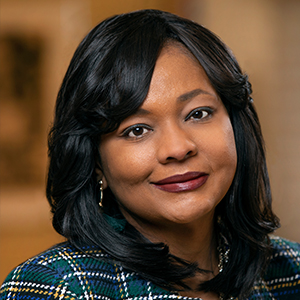 Mary Dana Hinton, Ph.D., President, Hollins University
Ms. Hinton is a member of the board of directors for the American Association of Colleges and Universities, Interfaith America, Saint Mary's School, The Teagle Foundation, and more. Ms. Hinton's scholarship focuses on leadership and inclusion in higher education. She is the author of The Commercial Church: Black Churches and the New Religious Marketplace in America and is a frequent op-ed contributor and author across higher education publications.
She earned a Ph.D. in religion and religious education with high honors from Fordham University, a Master of Arts degree in clinical child psychology from the University of Kansas, Lawrence, and a Bachelor of Arts degree in psychology from Williams College. She also holds honorary Doctor of Humane Letters degrees from Misericordia University and the Massachusetts College of Liberal Arts. Ms. Hinton is the recipient of the Bicentennial Medal from Williams College and was recognized with Credo's eighth annual Courageous Leadership Award. In 2021 she was elected to the American Academy of Arts & Sciences.
Nathan Dietz, Ph.D., Senior Researcher, Do Good Institute at the University of Maryland
Mr. Dietz joined the School of Public Policy in March 2017 as an associate research scholar after more than twenty years of conducting and managing research projects in government, the nonprofit sector, and academia. His research with the Do Good Institute focuses on social capital, volunteering, charitable contributions, civic engagement, and social entrepreneurship. Mr. Dietz is the author or coauthor of all Institute research publications and serves as the principal investigator for a research project sponsored by the Generosity Commission. His recent peer-reviewed publications include articles in Nonprofit and Voluntary Sector Quarterly, the American Journal of Community Psychology, and Nonprofit Policy Forum. Dietz has taught State, Local and Nonprofit Financial Management (PLCY 688F) since 2018, and serves as the chair of the School of Public Policy's Faculty Diversity Committee.
Mr. Dietz earned a master's degree and a Ph.D. in political science from the University of Rochester and earned a bachelor's degree with a dual-major in political science and mathematical methods in social sciences from Northwestern University.

Helping to inform and to moderate the conversation:
• Peter Fissinger, Senior Advisor, Campbell & Company
• Kate Roosevelt, CFRE, Co-President, Campbell & Company
CFRE: Full participation in the above webinar is applicable for 1 CFRE continuing education points in category 1.B – Education of the CFRE International application for initial certification and/or recertification.
Please note that the webinar is scheduled in Central time. When you register for the webinar, the webinar time will update to your time zone once added to your calendar.